Welcome to Specialized Turf Services.
We strives to offer West Michigan great quality, value, and service for your lawn care needs.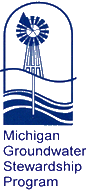 Our licensed applicator has 28 years of lawn care experience and will provide you with a fertilizer, weed, and pest control program for the specific needs of your lawn.
Specialized Turf Services participates in the
Michigan Groundwater Stewardship Program -
providing customers with phosphorus free fertilizer.